When Wine 4 You recently went through a rebrand, there was a ton of work to be done.
I designed a new logo for Shirley, as well as creating new gift certificates, store signage, handouts to accompany wine kits, business cards and social media images.  Because I'm such a control freak (it's a good thing, trust me) I've also gained access to Wine 4 You's social media pages.  What this means is that any time Shirley needs a cover photo changed or an event poster added, I can just pop in and do it.  I know that the cover photo isn't going to crop in a weird way and she doesn't have to fuss with how things look.  Everything just magically shows up at her end and we all carry on with life.  Everyone wins.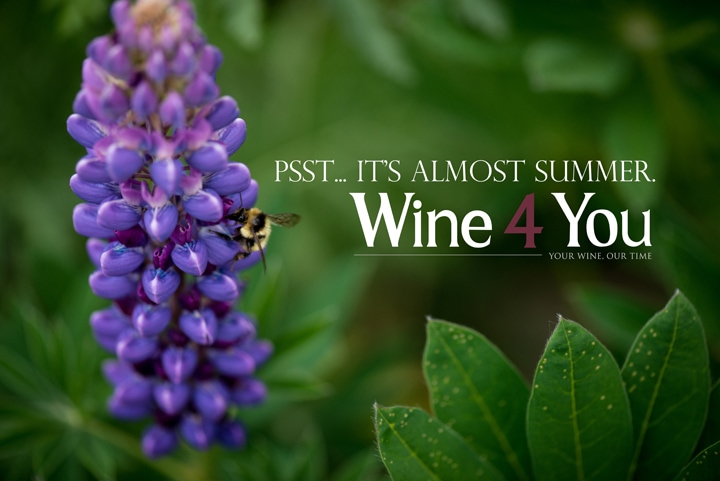 Erin is so easy to work with. Her excitement and enthusiasm are contagious.
A few years ago we were looking to upgrade our website. During a family photo session, Erin happened to mention that she and Jared also did websites. After years of family and figure skating photos I knew the quality and style that Erin would provide, and I knew Finelite would be a great fit for my business. Now the website looks awesome, thanks to Erin's photos and design, and Jared's technical finesse. Updates are done quick and easy. There is even a blog!
Recently, after almost 10 years in business, it was time to update our branding. We needed a fresh, new logo to better represent who we are - fun but professional. Erin had already been working on all the marketing materials and the website, so I didn't even think twice about who to go to. Erin listened to my reasons and what we were looking for and very quickly narrowed it down. I am also a control freak, but Erin was patient with my need to analyze every bit of the new logo.
The FB post photos and event pictures that Erin puts together look professional and I never need to spend time looking for the perfect picture for a post. I give her a list of what we are looking for and she makes it happen. She usually knows what I need before I do.